The Group
S.S.Lootah Group moves beyond its 50th year of success
Chief Executive Officer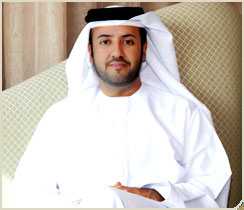 Eng. Yahya Bin Saeed Al-Lootah is the CEO of the S.S. Lootah Group, a leading business house founded and chaired by his father Haj Saeed Ahmed Al-Lootah in 1956. Born in 1973, Eng. Yahya Lootah grew up in Dubai and began his career at the age of 15, as an assistant to site engineers with the S. S. Lootah Contracting Company. Guided by his father's principles and values and his passion for learning, Eng. Yahya earned a higher certificate in civil architectural engineering in 1990 and a Master of Science in Engineering from University of Bridgeport, USA in 1997.
Eng. Yahya Lootah is actively involved in key management and strategic decisions at S.S. Lootah Group, and plays an important role in conceiving and developing new business concepts and joint ventures. He conceived 'S.S. Lootah International' in 1997 to facilitate partnerships and cooperation with leading international companies.
A significant portion of Yahya's time is devoted to meetings with employees, customers and business partners. Under Eng. Yahya's leadership, S.S. Lootah Group has forged public-private partnerships and strategic alliances to strengthen Dubai's economy, ensuring sustainable growth. Besides his role in S.S. Lootah Group, Eng.Yahya Lootah is also a member of the Board of Dubai Chamber of Commerce and a number of joint ventures and leading establishments.