Media
S.S. Lootah related latest News, Press releases and Events.
News
S. S. Lootah International signs a MoU with the Atlas Group in the Montenegro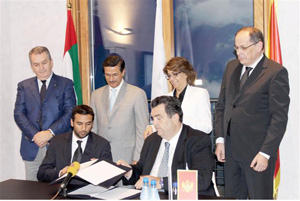 UAE Economy Minister Eng. Sultan Al Mansouri stressed here today in the Capital of Montenegro, Podgorica, the vital role played by the UAE national companies in extending bridges of cooperation and building strategic partnerships with different countries worldwide.
He added that the liberal and economic diversification policies being adopted by the UAE have contributed to development of the national economy and boosting of the UAE position at the regional and international arenas.
Al Mansouri was speaking during the signing ceremony of memorandum of understanding between S. S. Lootah Group and Atlas Group at the sidelines of his visit to Montenegro.
He added that "this practical step comes within the strategic framework of the Ministry of Economy to encourage and support the private sector to benefit from investment and trade opportunities in Montenegro", citing the role played by the national companies in building effective partnerships with Montenegro in all economic sectors.
The UAE minister stressed keenness of the ministry to list the Small and Medium Enterprises in the agenda of his foreign visits to attract more expertise and knowledge transfer to support this vital sector, which contributes to boosting of the economic development and competitiveness based on knowledge as per UAE Vision 2021.