Media
S.S. Lootah related latest News, Press releases and Events.
Press Releases
Dubai s first sustainable living expo concludes on high note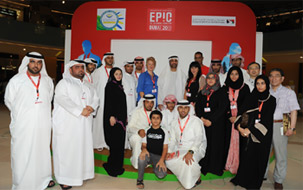 Over 500,000 visitors explored eco-friendly products and sustainable initiatives by leading companies
EPIC Dubai, the region's first sustainable living expo, concluded on Friday June 24 at The Dubai Mall by inspiring thousands of visitors to make eco-wise and informed choices. More than 70 local and global brands, such as Nokia, Philips, Masdar, Puma, Korres, De Dietrich, @Home, Miri Creation, Naturalizer, Dubai Garden Center, Marks and Spencer and many more, showcased sustainable products and features to educate and entertain attendees of all ages.
Mr. Abdulla saeed Lootah, CEO, SS Lootah International, extended his appreciation to all EPIC supporters especially the 150 Emirati volunteers whose commitment and dedication made EPIC a great success.
Masdar, Abu Dhabi's multi-faceted initiative advancing the development, commercialisation and deployment of renewable energy as well as clean technologies and solutions, and National Geographic Al Arabiya played key roles as EPIC Dubai's Sustainable Knowledge Partners.
Dr. Nawal Al Hosany, Associate Director- Corporate Sustainability Masdar, said: "We are delighted to be part in the EPIC Sustainable Living Expo as a knowledge partner. Masdar has taken leadership in Sustainability and renewable energy technologies regionally and globally. Through activities such as this event, we are able to communicate the importance of sustainability to a broader audience. Sustainability forms one of Masdar's core values and we ensure all business practices are environmentally, socially and economically sustainable. Our holistic approach to sustainability operates on an internal and external level, incorporating water, waste, energy and transport. Masdar's new internal sustainability program START, launched in 2010, resulted in a 300% increase in paper recycling effectiveness and a 400% increase in plastic recycling effectiveness. The results show that individuals will start and continue to make decisions based on the sustainability if the right culture is instilled in the organisation."
Mohammed Al Hammadi, Editor of National Geographic Al Arabiya, commented on the magazine's involvement at EPIC Dubai: "National Geographic Al Arabiya is committed to educating the UAE on the importance of environmental awareness, therefore participating at the EPIC Dubai exhibition was a perfect fit for us. Between us we share the same environmental principles and goals, and just like our "Colours of the World" photo display, the whole EPIC Dubai exhibition aims to encourage people to think about the world around them and to protect their natural environment by living sustainably."The environment and eco-living took centre stage at the expo. As part of their commitment to the event, Dubai Garden Center contributed to greening the EPIC Expo while De Dietrich showcased their latest energy efficient home appliances.
Mr. Nasser Talib, Chief Executive Officer of Dubai Garden Center, commented: "We, at the Desert Group, are especially proud of our social achievements by making a concerted effort to improve the environment around us in conjunction with recognized bodies such as the Ministry of Environment & the Ministry of Social Affairs & by participating in community efforts to create healthy living spaces. Increasingly striving to be a "green employer" in the business arena, we have introduced the processing of "Green Waste" discarded from major projects into a reusable product which is the "Wood Mulch ". This Product is used to preserve land integrity. We have also introduced our manufacturing unit for the organic production of Potting Soil, and the reuse of waste tree logs.
Desert Group is proud to be part of EPIC, which proves that we are reaching some of our "green" aspirations in terms of saving our environment and still will always be striving to green excellence. EPIC is a door that will allow us to be part in educating society on how we can behave, live and work green."
With 95 per cent of their appliances given top grading for energy consumption, De Dietrich products are designed to use little raw material, little energy and are as recyclable as possible.
Mr. Patrice Charbon, Global Brand Director of De Dietrich, said: "Our motto and the brand's philosophy is to reduce the impact on the environment. De Dietrich works in partnership with Eco-Systems to recycle its end-of-life products. That's why; De Dietrich is a proud sponsor of the EPIC Dubai Sustainable Living Expo as it fits perfectly with our vision and engineering for our brand in developing appliances to achieve sustainable living as we look into the future."
EPIC Dubai was part of Dubai Summer Surprises 2011 and was supported by the Ministry of Environment & Water, Dubai Police, Dubai Municipality, Dubai Chamber of Commerce, Bee'ah, Department of Economic Development, Government of Dubai, Dubai Events & Promotions Establishment, Dubai SME, Dubai FDI, Dubai TV and The Dubai Mall.
The expo included a variety of showcases to satisfy all tastes and interests. It covered Fashion & Accessories, Food & Beverage, Leisure & Travel, Home & Garden, Health & Beauty, Business & Technology, Transportation, and Government.
The EPIC Dubai features included EPIC Talks delivered by inspiring leaders, EPIC Sights offered visually enticing experiences of human ingenuity in tackling climate change, EPIC Sounds brought local and international musical acts to an ecologically aware platform and EPIC Eco-Fashion Shows put a sustainable and fashionable foot forward down the Dubai Mall catwalk. Renowned chefs from EMAAR Hospitality Group created dishes from organic and free-range produce at EPIC Cooking Stations, while the EPIC Kids corner featured eco-arts and crafts, interactive games and toys.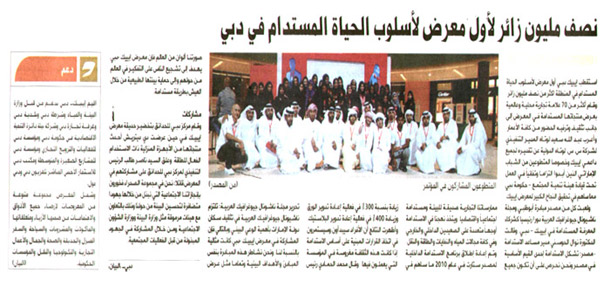 Published on:

Press Release Archives

 19 Oct 2012: RTA Power Bus

 15 Oct 2012: Lootah Biofuels to jointly collaborate with AlgaOil and plan to extract biofuel from Algae

 10 Sep 2012: S.S. Lootah International to offer technological solution for fully-automated biofuel production plant

 15 Jul 2012: Lootah BCGas and Algas-SDI sign agreement to jointly pursue Synthetic Natural Gas opportunities

 13 Mar 2012: وفد رفيع من الإمارة يشارك في مؤتمر ومعرض «غلوب 2012» ترويج دور دبي في تمكين نمو الاقتصاد الأخضر عالمياً

 13 Mar 2012: Dubai to unveil green showcase at GLOBE 2012

 12 Mar 2012: Dubai to unveil green showcase at GLOBE 2012

 12 Mar 2012: Dubai to unveil green showcase at GLOBE 2012

 12 Mar 2012: دبي تشارك في مؤتمر ومعرض" غلوب 2012" العالمي بوفد رفيع المستوى

 12 Mar 2012: Dubai to unveil green showcase at GLOBE 2012

 12 Mar 2012: دبي تشارك في مؤتمر ومعرض" غلوب 2012" العالمي للتعريف بدورها في تمكين نمو الاقتصاد الأخضر عالميا.

 12 Mar 2012: دبي تشارك في مؤتمر ومعرض" غلوب 2012" العالمي للتعريف بدورها في تمكين نمو الاقتصاد الأخضر عالميا..

 27 Jun 2011: Dubai s first sustainable living expo concludes on high note

 24 Jun 2011: Dubai gets first green parking lot

 22 Jun 2011: Dubai's first sustainable living expo kicks off in style at The Dubai Mall

 14 Jun 2011: Global brands Support Dubai's first Sustainable Living Expo

 08 Jun 2011: Sustainability leaders honored at World Environment Day Dubai celebration

 07 Jun 2011: Dubai Police Launches First BioFuel Initiative

 03 Jun 2011: Dubai Marks World Environment Day in Style

 05 May 2011: Dubai Summer Surprises and EPIC Dubai promote sustainable living at ATM 2011