Media
S.S. Lootah related latest News, Press releases and Events.
Press Releases
Global brands Support Dubai's first Sustainable Living Expo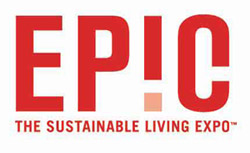 Dubai is set to host a unique showcase of global brands promoting sustainable lifestyle this month. Philips and NOKIA are among the key sponsors of EPIC, The Sustainable Living Expo to be held at The Dubai Mall from 22 to 24 June.
"EPIC will live up to its promise , Style meets Sustainability, thanks to leading global brands coming together to inspire eco-wise consumer behavior through their earth-friendly products, services and sustainable initiatives," said Tracy Fast, Show Manager, EPIC Dubai.
On Philips' participation at EPIC Dubai Expo, Vincenzo Ventricelli, Marketing Director, Philips Consumer Lifestyle, Middle East and Africa, said: "As part of our EcoVision plan, Philips is proud to be sponsoring Epic as a Global Change Maker, to showcase in the Philips Green Home, our range of energy efficient consumer lifestyle and lighting products that enable consumers to save energy. The Philips strategy, which aims to generate 30% of Philips' revenue through environmentally friendly products by the year 2012, highlights the company's commitment to contributing towards a greener environment. These new eco-friendly products, which include LCD's, audio visual products, domestic appliances and consumer lighting address a growing consumer demand for sustainable options that enable them to contribute to the environment through small everyday steps. Epic allows us to showcase these green alternatives to consumers and increase awareness of the options available to them."
Ulrike Vott, Sustainability Manager, Nokia Markets Middle East & Africa, commented: "Nokia strives to be a leader in sustainability and so we are delighted about EPIC coming to Dubai. Nokia has a long track record of taking sustainability into account along the entire life cycle of our products and operations, and we are proud to be named "world's most sustainable technology company" in 2009 and 2010 by the prestigious Dow Jones Sustainability Index. At EPIC we will showcase our latest eco lead devices and inform visitors about Nokia's eco innovations. In addition, we want to raise awareness about the importance of recycling of old, broken, redundant mobile phones, and make it easy for EPIC visitors to do so: For each mobile phone handed in for recycling at our stand during EPIC we will assure the material is recycled in a responsible way and offer you a chance to win a brand new Nokia E7."
EPIC Dubai is a unique consumer lifestyle showcase, designed for forward thinking companies. Visitors to the EPIC Dubai Expo will be introduced to eco-friendly offerings from local and multinational companies such as Philips, Nokia, Dietrich, Masdar, Dubai Garden Center, Naturalizer, Marks and Spencer, Puma, Dgrade, Korres, Neals Yard Remedies, Life Fitness, Nutrition Zone, Dermatologica, Chalhoub Group, Zen Eco-Beauty Spa, Miri Creation, Caribou Coffee, @ Home, Emirates Star General Trading, Clearwater, Lootah Biofuels and many more.
Short for Eco-wise, Progressive and Intelligent Consumers, EPIC Dubai will feature eight showcases from Fashion & Accessories, Food & Beverages and Leisure & Travel to Home & Garden & Transportation and dedicated showcases to Business & Technology and Government programs and initiatives.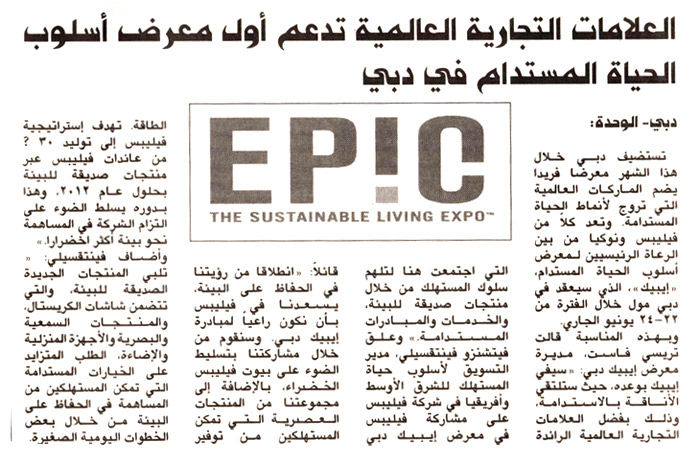 Published on:
Press Release Archives

 19 Oct 2012: RTA Power Bus

 15 Oct 2012: Lootah Biofuels to jointly collaborate with AlgaOil and plan to extract biofuel from Algae

 10 Sep 2012: S.S. Lootah International to offer technological solution for fully-automated biofuel production plant

 15 Jul 2012: Lootah BCGas and Algas-SDI sign agreement to jointly pursue Synthetic Natural Gas opportunities

 13 Mar 2012: وفد رفيع من الإمارة يشارك في مؤتمر ومعرض «غلوب 2012» ترويج دور دبي في تمكين نمو الاقتصاد الأخضر عالمياً

 13 Mar 2012: Dubai to unveil green showcase at GLOBE 2012

 12 Mar 2012: Dubai to unveil green showcase at GLOBE 2012

 12 Mar 2012: Dubai to unveil green showcase at GLOBE 2012

 12 Mar 2012: دبي تشارك في مؤتمر ومعرض" غلوب 2012" العالمي بوفد رفيع المستوى

 12 Mar 2012: Dubai to unveil green showcase at GLOBE 2012

 12 Mar 2012: دبي تشارك في مؤتمر ومعرض" غلوب 2012" العالمي للتعريف بدورها في تمكين نمو الاقتصاد الأخضر عالميا.

 12 Mar 2012: دبي تشارك في مؤتمر ومعرض" غلوب 2012" العالمي للتعريف بدورها في تمكين نمو الاقتصاد الأخضر عالميا..

 27 Jun 2011: Dubai s first sustainable living expo concludes on high note

 24 Jun 2011: Dubai gets first green parking lot

 22 Jun 2011: Dubai's first sustainable living expo kicks off in style at The Dubai Mall

 14 Jun 2011: Global brands Support Dubai's first Sustainable Living Expo

 08 Jun 2011: Sustainability leaders honored at World Environment Day Dubai celebration

 07 Jun 2011: Dubai Police Launches First BioFuel Initiative

 03 Jun 2011: Dubai Marks World Environment Day in Style

 05 May 2011: Dubai Summer Surprises and EPIC Dubai promote sustainable living at ATM 2011